Mesh Partitioning and Mesh Screens
Modular Mesh partitioning systems are extremely adaptable and flexible, allowing you to create a very secure perimeter / compound / enclosure around any area, with or without a roof and enabling easy dismantling and relocation or reconfiguration as and when the need arises. Ideal for security compounds, bonded areas within warehouses, stock rooms, gas bottle storage enclosures, segregated secure enclosures for different companies in one large room and many more uses.
ESE Projects have been designing and installing mesh partitioning since 1983, over the years we have completed many installations from galvanised gas storage cages with roofs outside in service yards, to creating floor to ceiling mesh stock compounds with high security locks on the doors in the basement of a major shopping mall for over fifty shops.
We would welcome the opportunity to assist you with your specific requirements, why not give us a call today.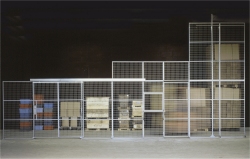 How flexible is the mesh partitioning?
Mesh partitioning panels are available in 7 different standard widths - 200mm, 300mm, 700mm, 800mm, 1m, 1.2m or 1.5m wide, and these can be cut on site to go round any obstructions or buttresses etc (a cover channel is fitted over the cut end to maintain the integrity of the cut panel and prevent any sharp edges being exposed).
Each standard panel is 2.2m high but the panels can be stacked vertically or even sideways on top of each other to achieve higher partition walls if required, and the top panel cut / trimmed to take you right up to the roof if you need (including cutting into a sloping roof around portal frames and other obstructions), whilst still ensuring a truly demountable partition system ideal for any dynamic secure storage space that may require changes to its room layouts at times.
Mesh Partitioning panels bolt directly to each other and to the floor, on longer runs or runs higher than one panel special support feet may be used to provide stability to the structure. It is also possible to specify raised fixings to pick up floor irregularities or just to create a gap between the floor and the partitions which is ideal if there is the risk of liquid spillages.
Hinged Single and Double doors are available in several widths with budget padlock fixings or profile cylinder locking for ease of use, Sliding doors are also available, as are higher than 2.2m doors which are ideal for use when you need a forklift to be able to drive through the opening.
All Mesh partitioning panels are supplied powder coated in Grey RAL7037 finish as standard, however other colours or galvanized mesh panels for outside use or coldroom storage situations are also available.