Cleanroom Advice
Cleanroom Planning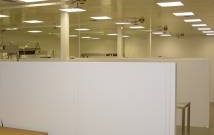 Cleanrooms are a specialised requirement normally found in pharmaceutical & drug production, packing and research facilities; electronic component manufacture & research facilities; or in other specialised laboratory environments that require near zero contamination or positive/negative pressure atmosphere areas.
ESE has carried out a number of installations of sealed suspended ceilings, laboratory grade partitioning systems, workbench construction, mezzanine floors, storage facilities, conveyor systems and area segregation in conjunction with other specialised suppliers of the complementary equipment.
Whilst cleanrooms are specialised in their construction and 'sealed' compartment approach, the same basic principles of space management and operation ergonomics remain relevant as they do in the Office, Warehouse and Factory environments. This is where ESE offers the added advantage of thirty years experience in designing and installing hundreds of different systems to the customers complete satisfaction.
If a simple process/work flow detail can be obtained from the initial goods-in-to-assembly/manufacture-to-goods-out, we can work with you to advise on the optimum design for any facility, ensuring travel distances between processes are minimised and where financially possible semi-automated with conveyors or some other form of handling equipment.
Storage of equipment and product also needs to be considered to ensure operatives have all the equipment they need to function as close to hand as possible, which optimises productivity. In addition, there needs to be a detailed examination of the adequacy of signage and health & safety equipment; compliance with relevant regulations and the Disability Discrimination Act (DDA).